People + Culture Lead (d/f/m)
We are diesdas.digital, a digital studio from Berlin, focusing on branding and building digital products with clients such as Red Bull, ZEIT ONLINE or the city of Düsseldorf. Our team consists of programmers, designers, project managers, strategists and office managers – although we have a shiny office in Berlin all of our employees currently work remotely and a large part will stay distributed even after the pandemic.
We have grown to around 30 people over the course of five years and a lot of internal tasks and responsibilities are currently scattered across many people and roles. In order to bring more ease, clarity and coherence to our organization we intend to bundle some internal responsibilities into a new role, which has the working title "People + Culture Lead" (it could also be "HR", but we don't like to think of our people as "resources").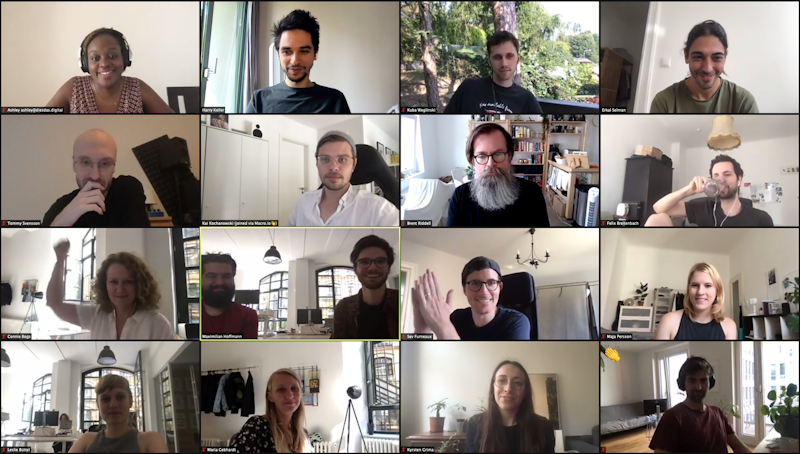 The role
Some of the responsibilities we already identified:
handle incoming job applications, guide the interview processes, coordinate with candidates and our team
write and distribute our job postings (together with Maria who is handling communications)
organize legal and contractual requirements around employment (together with Connie who is heading our office management and our lawyer/tax accountant)
onboarding/offboarding new/old employees and freelancers
support our team in their daily work, remove blockers and mediate in case of conflicts
keep an eye on the services we use and assist our team if they need new software/hardware
suggest professional development opportunities for team members and help them discover and grow their strengths
organize and conduct employee feedback talks (they happen every 6 months), collecting feedback from colleagues, leading the meetings, discussing salaries, …
organize team events and surprise our team once in a while (e.g. with birthday or Christmas presents)
keep an eye on everyone's workload and mental health together with our PM team
As you can see this role is a mix of recruiting, people management and happiness coach. We know that these responsibilities come from very different fields and we are not expecting you to be an expert in or have prior experience with all of them. Just like the rest of the team you can grow into all these tasks and you'll get all the support you need. If you tick some boxes and have curiosity for the rest, then do apply!
This is a new role within our company, so the list above might not be comprehensive … you have the freedom to actively shape the position yourself and suggest changes. We will need to figure out together how all this works within our organization.
What else you should know:
Full-time or part-time, but four days per week (32h) would be the minimum for the role to make sense
30 days of holidays yearly + an extra day off on your birthday
the job can be entirely remote (in Berlin-compatible timezones), but if you want to move to Berlin we'll support you financially in doing so
yearly budget for your own professional development
entirely flexible working hours
our employees come from 10+ nationalities, so speaking English fluently is required, speaking German is a big plus
in terms of tooling our company runs on Slack, Notion, Zoom, Miro, Harvest and Personio, however we are currently considering replacing the last two with Moco
Sounds good? Then it's your turn now!
Send us a message with some lines about yourself, your motivation, earliest start date and CV to work@diesdas.digital. We'll take it from there. 😊
Not convinced yet? Learn more about us!
Don't miss our tumblr, lots of office photos on Instagram and take a look at our Twitter. There is also a ton of articles on our blog or learn more in our wiki (which you are already on).
Lastly, in case this job is not for you, but nonetheless you read thus far: We'd be grateful if you shared this job posting with your network or passed it on to someone who might be interested. Thank you! 🙇